Who is eligible for Special Olympics?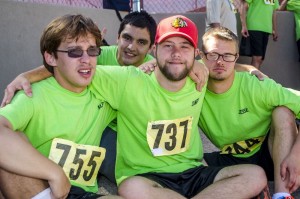 Persons ages 8 and older are eligible for participation in Special Olympics. There is no upper age limit for participation. Children ages 6 and 7 are eligible for participation in sports training programs. At age 8, athletes can begin competing at the local, area and state levels.
Persons eligible for Special Olympics: have been identified by an agency or professional as having an intellectual disability; or have a cognitive delay as determined by a standardized measure (i.e., I.Q. level which is generally and professionally accepted within the state as evidence of an intellectual disability); or have significant learning or vocational problems due to a cognitive delay which requires specially-designed classroom instruction or specially-designed programs in the workplace.
Interpretation: The primary dysfunction must be cognitive in nature, while a secondary classification may be physical, i.e., orthopedic, visual or auditory. Persons with emotional or behavioral disorders, or specific disabilities, such as dyslexia or speech or language impairment, are not eligible.
How much does Special Olympics cost?
Special Olympics training programs, local competitions and area level competitions are offered at no cost to the athlete. Every athlete, however, is required to pay a registration fee and a lodging fee if travelling, for participation in state competitions. Many local Special Olympics programs conduct fundraisers or arrange sponsors through local businesses to underwrite all transportation and state competition fees.
How do I enroll in Special Olympics?
It's easy to get involved Special Olympics. Just follow these steps:
Complete an

application for participation form

and have it signed by a physician and the athlete's parent or legal guardian. You can obtain an application by calling your Area Director or by calling the Special Olympics New Mexico Chapter office at (800) 371-5525 or (505) 856-0342.
Keep a copy of the completed application for participation and return the original directly to Special Olympics New Mexico, 6600 Palomas NE, Suite 207, Albuquerque, NM 87109.
Contact your Special Olympics Area Director for placement in a local program and upcoming training and competition dates.
(When Special Olympics receives your completed form, you will be added to a mailing list to receive newsletters with additional information.)
Who can I call to find out more about Special Olympics?
If you have further questions about Special Olympics sports opportunities in your community, contact the Area Director for your county or call the Special Olympics New Mexico State Office at (800) 371-5525 or (505) 856-0342.
How often do Special Olympics athletes train and compete?
The Special Olympics athlete is required to complete an eight-week training program under the guidance of a certified Special Olympics coach to be eligible for participation in an area level competition. Participation at the area level then automatically qualifies the athlete for state level competition. Please contact the State Office for a current training and competition calendar for your area.
How are Special Olympics competitions structured?
With divisions for age, gender and ability, Special Olympics gives every athlete a reasonable chance to win. Athletes from all divisions may advance to state level competition.