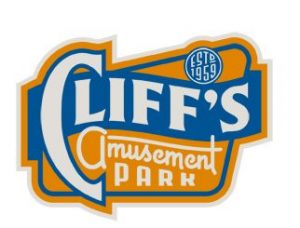 We are excited to inform all of you that Cliff's Amusement Park will be hosting the Saturday night Victory Dance and Dinner as part of the Special Olympics Day at Cliff's.  All Athletes will receive a free ride pass that is valid on May 19th only.  SONM will ensure that all officially registered members of your delegation will also receive a free ride pass.  Family members, guardians, staff and any other people associated with your delegation, but are not registered as part of your official Summer Games delegation can purchase ride passes at a drastically reduced price of $14.00 which includes taxes. This price does not include access to Water Mania as the feature is not open this time of year.  The regular cost at the gate is $28.99 plus tax so this is a very good value.  These tickets must be purchased on or before 4:00 pm May 19th to take advantage of the discounted rate. If the deadline is missed, the regular admission rate will be charged.
The reduced price is also available to all SONM volunteers, Games Management Team, Sponsors and their families.
Purchasing additional ride passes
Purchase tickets from the SONM website. Click on the link to access ticket information:
https://webhost.corecashless.com/cliffsamusementpark/sales/?pcode=2018SPECIALOLYMPICS
Print your confirmation page and bring it to the main gate to receive your ride pass.
Cliff's Amusement Park WILL NOT be setup on site at Olympic Village on Friday, so please make sure you order your tickets online.
Purchased Ride Passes and all Free Ride Passes will not include Access to WATER MANIA as this feature is not open this time of year.
Parking
Parking is at a premium and delegations are asked to do all they can to help ease the parking pressure. The Residence Inn, located on the west side of I-25 is the designated bus parking area. There is a pedestrian bridge over I-25 that leads directly to Cliff's. Busses and those with athletes that have mobility challenges can be dropped off at the main gate and then the bus will proceed to the designated parking area.
Delegations are strongly encouraged to carpool and to use the alternate parking at the Residence Inn. Access to the bridge from the north side of the canal is a long ramp and is ADA compliant. Access to the bridge from the parking lot require the use of stairs.
Maps and more detailed instructions will be included with your coaches packets and will be posted online as we get closer to Game time.
 Park Access and Timelines
The park hours are 11:00 am to 9:00 pm and will be open continuously. The dinner and Victory Dance will be hosted from 4:30 pm to 8:30 pm at the Pavilion.  Report to the Pavilion by 7:00 pm before the Park closes.  The Victory Dance will conclude at 8:30 pm.
Ticket Distribution
All Athlete, Partner, Coach, and Chaperon tickets will be distributed at the Coaches Meeting on Friday, May 18th.
Tickets purchased online will be the responsibility of the purchaser to print a confirmation of the purchase and present the confirmation at the main gate to receive the ride passes.

Dinner and Victory Dance
Cliff's Amusement Park opens at 11:00 am and closes at 9:00 pm. Delegations are strongly encouraged to arrive at the park as early as possible. The Dinner and Victory Dance will be hosted at the Pavilion. Dinner is scheduled from 4:00 pm to 6:30 pm and will be provided by Rudy's Bar-B-Q. In an effort to avoid long lines, dinner will be served in two lines and we will assign delegations shift times to report to dinner.
The Victory Dance will close at 8:30 pm. Please make note of this and plan accordingly.
It is extremely important that everyone understands that purchasing the $12.00 ride pass does not include dinner.  Only those registered delegates with credentials or extra meal ticket holders will be served dinner.
Cliff's Amusement Park has a wide variety of concession stands where food can be purchased by those without credentials.

Important Reminders- For Delegations
Ensure all delegation members wear their credentials at all times.
Please wear your Games Tee Shirt.
The ride pass wrist bands need to be worn on the RIGHT HAND
DO NOT leave your wrist bands at home or at your hotel. It will be very difficult to replace them.
All ride passes are valid on May 19th only.  The Park opens at 11:00 am so as soon as your athletes are finished with their events they can head to the Park.
Important Reminders- Purchased Tickets
The $12.00 promotional price for additional tickets closes at 4:00 pm on May 19th.
If you purchased your tickets online, make sure to bring your confirmation to the main gates to pick up your passes
Only registered, credentialed delegates can access dinner. Be sure to make plans to purchase dinner at Cliff's concession stands. There are many options.