NMLETR's Toast
Nov. 15 – Dec. 31, 2015
From Sunday, Nov. 15th through Thursday, Dec. 31st, join N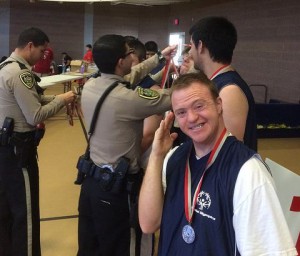 MLETR in celebrating our entire law enforcement community in New Mexico with New Mexico Law Enforcement Torch Run's first-ever "Toast" social fundraising campaign, where you and other Torch Run supporters are encouraged to make a video toast of at least one individual in your law enforcement community and share it on your social media sites!.
Once you toast your chosen LE officer(s), challenge them to continue on the Toast social campaign! Each video toast is your commitment to donate $20.00 to your preferred LETR agency's online fundraising page (see  our LETR Agency Fundraising Pages list below).
All donations benefit Special Olympics New Mexico's athletes and year-round, statewide sports program! For more information email torchrun@sonm.org or call 505.856.0342.
HOW TO TOAST
Simply create and share a brief video of yourself and/or another offering a toast to at least one member of your law enforcement community (Police, Fire, Military, Etc.) Use the following message and personalize it to fit your style:
"In honor of our Law Enforcement community, and in the spirit of our Special Olympics athletes, here's to… [list LE officer or representative names] for… [Example: 'serving alongside me for the last 20 years. You make thinking about retirement a difficult task'].  I commit $20.00 to the LETR [Example: Dona Ana County Sheriff's Office] at LETROnline.org, and nominate you to toast or another law enforcement officer within the next 24 hours."

WHAT YOU'LL NEED
Phone w/ Video Camera
Social Media Page (Facebook, YouTube, Instagram)
Something to toast with (water, coffee, etc.)
$20.00 to donate to your preferred LETR Agency (see list below)
LIST OF AGENCIES (use search box to the right)

| Agency | Donate Now |
| --- | --- |
| Alamogordo Police Department | Donate |
| Albuquerque Police Department | Donate |
| Artesia Police Department | Donate |
| Bayard Police Department | Donate |
| Belen Police Department | Donate |
| Bernalillo County Sheriff's Office | Donate |
| Bernalillo Police Department | Donate |
| Bloomfield Police Department | Donate |
| Bureau of Indian Affairs - Northern Pueblo Agency | Donate |
| Carlsbad Police Department | Donate |
| CCA - Torrance County Detention Facility | Donate |
| Central New Mexico Correctional Department | Donate |
| Cibola County Sheriff's Office | Donate |
| Clovis Police Department | Donate |
| Dona Ana County Sheriff's Office | Donate |
| Edgewood Police Department | Donate |
| Espanola Police Department | Donate |
| Farmington Police Department | Donate |
| Gallup Police Department | Donate |
| Grants Police Department | Donate |
| Hobb's Police Department | Donate |
| IGUA #69 | Donate |
| Isleta Police Department | Donate |
| Juvenile Probation | Donate |
| Laguna Police Department | Donate |
| Las Cruces Police Department | Donate |
| Las Vegas Police Department | Donate |
| Lea County Sheriff's Department | Donate |
| Los Alamos Police Department | Donate |
| Los Lunas Police Department | Donate |
| Luna County Detention Facility | Donate |
| Navajo Police Department - Crownpoint District | Donate |
| New Mexico Air National Guard | Donate |
| New Mexico Attorney General's Office | Donate |
| New Mexico Rangers | Donate |
| New Mexico State Police - Farmington | Donate |
| New Mexico State Police - Santa Fe | Donate |
| Office of the District Attorney - Gallup | Donate |
| Otero County Prison Facility | Donate |
| Otero County Sheriff's Office | Donate |
| Pueblo of Acoma Police Department | Donate |
| Rio Arriba Sheriff's Office | Donate |
| Rio Rancho Police Department | Donate |
| Roswell Police Department | Donate |
| Sandia Police Department | Donate |
| Sandoval County Sheriff's Office | Donate |
| Santa Ana Police Department | Donate |
| Santa Clara Tribal Police Department | Donate |
| Santa Fe County Sheriff's Office | Donate |
| Santa Fe Police Department | Donate |
| Santa Rosa Police Department | Donate |
| Special Olympics New Mexico State Office | Donate |
| State of New Mexico Probation and Parole | Donate |
| Sunland Park Police Department | Donate |
| Taos Police Department | Donate |
| Tatum Police Department | Donate |
| Torrance County Sheriff's Office | Donate |
| Town of Vaughn Police Department | Donate |
| U.S. Probation | Donate |
| Union County Sheriff's Office | Donate |
| University of New Mexico Police Department | Donate |
| Valencia County Sheriff's Office | Donate |