Support Special Olympics New Mexico
by Volunteering in 2019
Special Olympics New Mexico serves more than 3,700 athletes statewide. The largest "Area" served includes Albuquerque and its surrounding cities. We have many day-of-competition volunteer opportunities throughout the year and would love for you to be part of our volunteer crew.
Day-of volunteering allows you to pick one or more shifts during a competition and is an opportunity for new and seasoned volunteers looking to make an impact in the lives of Special Olympics athletes. It's an experience you will cherish! Individuals, groups and teams are all welcome. Email Rebecca at rainsberger@sonm.org with questions and to discuss group sizes for shifts.
Fall Volunteer Opportunities in October and November 2019
Check out the flyer below for all info regarding the October and November volunteer opportunities in Albuquerque and Santa Ana. Please register online ASAP so we know when shifts are full and so we know how many people to expect! Register online HERE!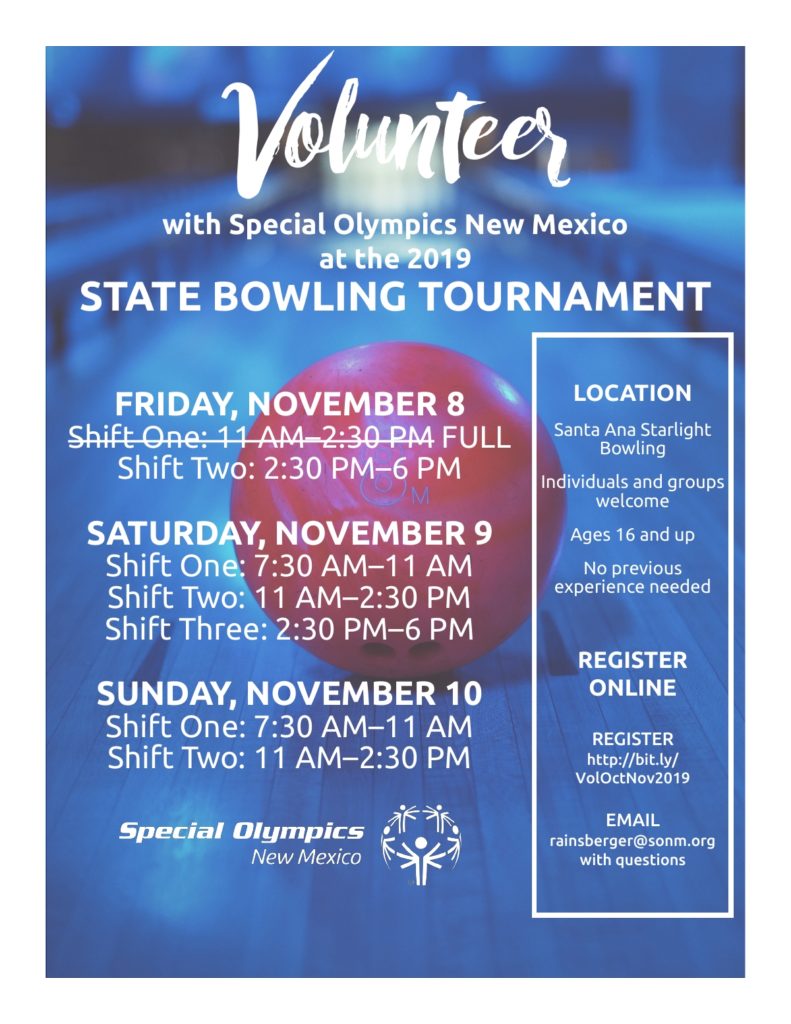 View our Volunteer Opportunities Overview here: 2019 Volunteer Overview Albuquerque Area
General Volunteer Information: Volunteers age 16 and up are welcome. Please email Rebecca for further age specific questions. Day-of volunteer duties vary depending on the competition. Duties may include (but are not limited to) timing, score-keeping, athlete escorts, set-up and tear down of competition (moving equipment, chairs, tables, etc.). No previous experience is required. Disclaimer: set-up and tear down shifts may include lifting equipment and tables in excess of 30 pounds.
State Summer Games
2019 State Summer Games Opportunities: Registration is closed. Thank you to everyone who volunteered and supported the 2019 State Summer Games! We appreciate you!
The 2019 State Summer Games is the largest statewide competition held by Special Olympics New Mexico. This competition requires more than 800 volunteers to support various duties throughout competition weekend. Email Rebecca – rainsberger@sonm.org – with any questions. Stay tuned for 2020 dates!