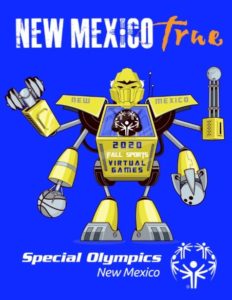 2020 SONM Fall Sports Virtual Games
August 30 – October 31, 2020

These Games offer events in four sports: Basketball, Bowling, Fitness and Golf.  Athletes will once again select 3 events to train and compete in but we have combined Fitness events into multiple event sequences.  Strength Sequence #1, #2 and the Balance Sequence all count as one individual event each even though there are four event parts to each sequence.
Please make sure to review the Event Descriptions for more information about the Fitness events and all of the other sport/event options athlete can select from.
Health, Fitness and overall Wellness are key components in evaluating the impact of sport specific training. Before 2020 was totally interrupted by the COVID-19 pandemic, the plan was to implement these Health and Fitness initiative along with Athlete Wellness programs into all aspects of training and competition.  This has been put on hold but we have been able to successfully introduce activities like Fit5 and the Boarder Battle Challenge to bridge the gap.  In the Fall Sports Virtual Games, we are introducing a more structured approach by including an eight week basketball training plan along with weekly Health, Fitness and Wellness activities and charts.  The basketball eight week training plan is designed to promote basketball specific skill development and it can be used as a stand alone plan or in conjunction with the Health, Fitness and Wellness Weekly Activities.  Both have been fully integrated with each other. We strongly encourage all athletes to engage the entire program.
All entries for the 2020 SONM Fall Sports Virtual Games must be submitted by the local program and will require registration with preliminary scores by September 30th. The final scores are due by midnight on October 31st.  The Awards format will follow that of the last Virtual Games.  Final dates, places and times will be announced as we get closer.  Results will be posted as soon as all final registration forms are received and processed.
Important Deadlines
August 30th – Workout/Home Practices/Fitness and Health Begins
September 25th – Athletes submit your registration and preliminary scores to your coaches
September 30th – Coaches submit the registration forms to the state office
October 28th – Athletes submit your final score sheet to your coaches
October 31st – Coaches submit final score sheets to the state office
October 31st – Halloween Zoom Victory Dance, Time TBD
TBD – Awards Dates
E Participant Waiver and Release
Athletes who do not have the Athlete Registration and Medical Form on file at the Chapter office must complete and submit the basic E-Waiver Form.  The form can be emailed to chrispage@sonm.org, faxed to 505-845-0346 or mailed to:
Special Olympics New Mexico
6600 Palomas Ave NE
Suite 207
Albuquerque, New Mexico 87109
E Particiant Waiver and Release
Health, Fitness and Wellness Weekly Activity Guide
Fall Sports Virtual Games Event and Registration Material
Registration Instructions
Fall Sports Events and Desciptions
8 Week Training Program
Preliminary Registration (Required – Due September 30) PDF
Preliminary Registration Form – Excel
Final Registration (Required – Due October 31) PDF
Final Registration Form – Excel
Coach Steve and Sean Harris Basketball Weekly Training Videos
Jr. NBA Day Camp
RESULTS BY EVENT

Basketball Events
10 Meter Dribble
Free Throws
Layups
Speed Dribble
Spot Shot
Target Pass
Three Pointers
Dunk-Trick Shot
Bowling Events
Bowling Test
Underhand Toss for Accuracy
Fitness Events
Strength Sequence #1
Strength Sequence #2
Balance Sequence
Golf Events
Golf – Level 2
Putting Sequence

RESULTS BY AREA AND DELEGATION
Area 1 (All Delegations)
Bloomfield
Farmington Avengers
San Juan Co
Area 2 (All Delegations)
 Las Vegas
Los Alamos
Santa Fe
Area 3 (All Delegations)
Las Cruces
Las Cruces Incredibles
Los Amigos de Gadsden Area
Area 4 (All Delegations)
Carlsbad
Clovis
Lea Co
Pecos Valley
Roswell
Area 5 (All Delegations)
Academy
ADO
Estancia
Manzano
MHS
Providence
Rio Rancho Rockets
Rio Rancho Strikers
Rockin Wranglers
Sandia Prep
Valley Hot Shots
Westside Wonders
Area 6 (All Delegations)
Gallup