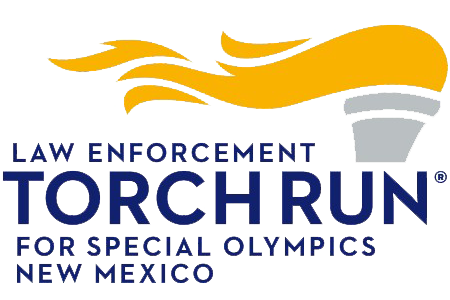 New Mexico State Office Contacts
Oscar Solis, LETR Director of Operations / Liaison
505.856.0342 ext. 1009
Barbara McRae, LETR Agency Manager
505.856.0342 ext. 1009
Who We Are
Law Enforcement Torch Run® is a community-building organization that promotes and empowers law enforcement agencies to raise awareness and funds year-round for Special Olympics. Known as Guardians of the Flame, law enforcement members work to build inclusive communities and bring hope to Special Olympics athletes and their families, all while raising funds for Special Olympics locally and globally.
Our Mission
The mission of the Law Enforcement Torch Run® (LETR) is to raise awareness and funds for the Special Olympics movement.
Our History
Law Enforcement Torch Run® began in 1981 when Wichita, Kansas Police Chief Richard LaMunyon created the Torch Run. He thought the Torch Run would help law enforcement be active in the community and support the growing needs of Special Olympics Kansas. In 1983, Chief LaMunyon presented the program to the International Association of Chiefs of Police (IACP). They decided to endorse Torch Run and became the "Founding Law Enforcement Organization." With the IACP's support, LETR became the movement's largest public awareness and fundraising group for Special Olympics. Globally, LETR has raised more than $700 million for Special Olympics since its inception in 1983. Learn more about LETR.
Our New Mexico Program
Our officer-led Law Enforcement Torch Run (LETR) program in New Mexico offers LETR Agencies (law enforcement officers and their families) fun, rewarding experiences through seasonal fundraising activities and other enriching events with and for local Special Olympics athletes and their families.
Over 200 New Mexico law enforcement personnel from more than 30 Federal, Military, State, County and Local agencies participate in the Torch Run. Funds are raised through a variety of activities and fundraisers, with the highlight being the month-long, 1,600-mile statewide run culminating at the Special Olympics New Mexico State Summer Games in Albuquerque each year.
Our Leadership
The New Mexico Law Enforcement Torch Run is governed by a State Executive Committee, who together establishes, upholds, and/or ratifies and adopts governing operational guidelines and procedures, as well as administrative priorities relevant to the current and future needs of our LETR program and participating agencies. On our frontline level, LETR is led by an State Director, Assistant State Director, ten Regional Coordinators, and numerous Local Agency Coordinators. View our organizational chart.
LETR National and Global Opportunities