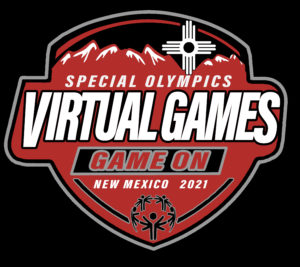 2021 Summer Virtual Games 
Due to the current status of the COVID-19 pandemic, we will once again be unable to provide in-person training and competition during the traditional SONM Summer Games season resulting in the continuation of our virtual programming in the 2021 SONM Virtual Summer Games.  Athletes will be eligible to choose to compete in four events from a list of thirty four (34) in six (6) sport categories.  Some of the events are sport specific while others are geared toward general fitness.
Please review the Event Description posted below
Points of Emphasis
All entries MUST have a qualifying score to be eligible to advance to the finals.
Athletes can choose four events to compete in.
All participants and those who support them (coaches, parents, Unified Partners, caregiver…) must review and familiarize themselves with the event descriptions before submitting qualifying entries.
The logo at the top of the page is also the Virtual Games medal that will be used for the remainder of 2021.
Golf Unified Partners will receive a tee shirt and medal as long as they are registered on the Level 2 Golf Form and included on the tee shirt list located on page 1 of the registration packet.
Important Dates and Deadlines
Season Opening:  April 15, 2021
Season Duration: April 15 – June 15, 2021
Qualifying Scores Due:  May 15, 2021
Final Scores Due: June 15, 2021
Drive Through Awards Ceremonies: June 19 – June 26, 2021
E-Participant Waiver and Release
Athletes who do not have the Athlete Registration and Medical Form on file at the Chapter office must complete and submit the basic E-Waiver Form.  The form can be emailed to chrispage@sonm.org, faxed to 505-845-0346 or mailed to:
Special Olympics New Mexico
6600 Palomas Ave NE
Suite 207
Albuquerque, New Mexico 87109
E Particiant Waiver and Release
Virtual Winter Games Registration Material
2021 Virtual Summer Games Registration – Excel
2021 Virtual Summer Games Registration – PDF
2021 Virtual Summer Games Events and Descriptions – PDF