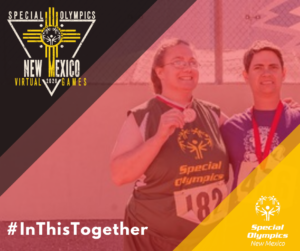 Presenting Sponsor of the 2020 Summer Virtual Games
This competition is a safe way for athletes to keep the spirit of Special Olympics New Mexico alive by competing from home!
2020 Summer Virtual Games
Here's how it works:
Download the Individual Entry and Scoresheet Form Here: This is a complete packet with information included on this webpage, the Individual Entry Form and Scoresheet and Event Descriptions.  If you need this information mailed to you, please contact your coach and we will get you the form as soon as possible.  Each section of the packet is posted as individual links at the bottom of this page.

The Individual Entry Form and Scoresheet are the same form so you do not need to preregister for this event.

Choose your activities (3 per person): Check out all the athletics, volleyball, general fitness, softball and bocce events that are available.
Practice: Practice alone or at a safe distance from others outside of your home. Athletes can begin training for their events at any time but be sure to begin by June 29th and continue through July 7th when the recording period begins.
Event Descriptions: Make sure to review the event description before you select your events. It is very important to follow each event description and set up before you record your scores.
Compete: During the week of July 7 – July 11th, find a time to complete your three events and record the results. You are encouraged to post videos and photos of your activities.
Submit your results: Submit your best score by Saturday July 11th, before the clock strikes midnight. You can submit your scores by:
Email to chrispage@sonm.org or jena@sonm.org
Take a picture and text to (505) 269-0788.
Regular Mail – Remember that if you mail the form, be sure to mail it with enough time for it to arrive by July 11th by midnight.

Mail all forms to:

Special Olympics New Mexico
Attention: 2020 Virtual Games
6600 Palomas Ave. NE
Albuquerque, NM 87109

Fax your scoresheet to (505) 856-0346.
Submit your information through Google forms at this link:
All entrants will receive a participation medal, a tee shirt and certificates for place in each event you compete in.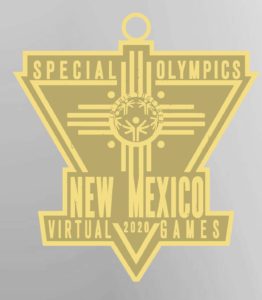 Find out how you did: On Friday, July 17th, results will be posted to the at the top of this page.

A drive through Awards "Ceremony" will be held on July 18th. Participants can drive by during a select time and location to receive their t-shirt, medal and award certificate ensuring to meet all safety protocols in place at the time of the event. More information will be posted and released on this as we get closer to the event.

Safety Protocols: In order to follow social distancing and stay at home orders, you should practice and compete in these activities on your own at home; however, virtual interactions with your team through social media, texts or emails are allowed and encouraged! Coaches can still help virtually with explaining practice activities, collecting and submitting scores, and cheering you on.
If you need help or don't have access to a computer, ask your parent, staff person or coach to help.
Coaches: Do you have athletes who don't have access to internet but would still like to be a part of Virtual Summer Games? If you're willing and able to do so safely, please get this printable score sheet to your athletes so they can participate and record their results without needed internet or computer access. We can also mail this registration/score sheet to an athlete if you are able to provide a mailing address. Please be aware of submission dates when requesting a mail in registration/score sheet.
By submitting a Individual Entry and Scoresheet form for the 2020 SONM Virtual Games, you are indicating that there is understanding that participation involves rigorous physical activity and risks of physical injury and you assume these risks. You understand that the risks include a full range of injuries, from minor to severe, including death. Although protective equipment may be used and safety rules employed and other efforts taken, there is no guarantee that participants will not be injured. You agree to assume and accept these risks.
Virtual Games Forms and Information
Individual Entry and Scoresheet Form – PDF
Individual Entry and Scoresheet Form – Excel
Online Individual Entry and Scoresheet – ClassMarker
2020 Virtual Games Information Sheet – PDF
2020 Virtual Games Event Descriptions
2020 SONM Virtual Games Preliminary Results
2020 SONM Virtual Games Final Results – Compressed (103 Pages)
2020 SONM Virtual Games Results -By Delegation
Chapter Drive Through Awards Map
RRPD Drive Through Awards Map